Complete Story

07/07/2021
MRCA Announces 2021's Conference and Expo Keynote Speaker - Bill Davidson of Harley Davidson!
The MRCA Conference Keynote Speaker will be Bill Davidson, the great grandson of Harley-Davidson founder William A. Davidson, and the son of William G. "Willie G." Davidson, who currently serves the companies' Senior Vice President & Chief Styling Officer.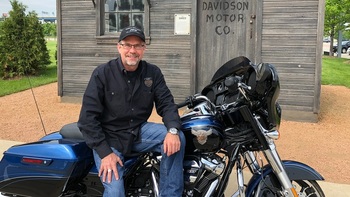 Davidson, who joined the company in 1984, has ridden motorcycles since the age of seven and has been in various leadership positions within the company for more than 26 years, spending his career deeply focused on strengthening Harley-Davidson's relationships with riders around the world. Currently, Bill Davidson is the Vice President of the Harley-Davidson Museum and Factory Tours for Harley-Davidson Motor Company. As the museum's top executive, Davidson is responsible for overseeing the marketing activities and daily operations of the museum.
In addition to being the keynote speaker at the Annual Meeting, Bill will be autographing the MRCA/CERTA sponsored 2021 Harley Davidson Street Glide FLHX in classic gloss black that is going to be given away to one lucky Contractor on the Expo Floor on Wednesday, November 10th. Harley-Davidson of Wisconsin will also be there with a full display of Harley-Davidson bikes.
More Info
---