Details

December 7, 2023
4:30PM - 8:00PM CST
MRCA Holiday Fiesta & Toy Drive
Get ready to jingle and mingle as we kick off the holiday season with a festive twist! The Midwest Roofing Contractors Association invites you to our "First Thursday Holiday Party and Toy Drive" on December 7, 2023, from 4:30 pm to 8:00 pm at the iconic St. Pete's Dancing Marlin, located at 2730 Commerce St, Dallas, TX.
Date & Time: December 7, 2023, 4:30 pm - 8:00 pm
Theme: Celebrate the Spirit of Giving!
Activities: Drinks, Food, Music, and a Toy Drive
This holiday gathering isn't just about merriment; it's about coming together as a community within the roofing industry and making a difference in the lives of Dallas children. To join the festivities, we kindly request that all attendees bring a new toy for donation or make a $25 contribution to benefit a local children's charity (specific charitable organization to be determined).
Sponsorship Opportunities:
We are also offering sponsorship opportunities for companies that want to make a bigger impact. For $250, $500, and $750 sponsorships, your company will receive prominent signage at the event and recognition in a special social media post prior to the event. It's a fantastic way to showcase your commitment to both the roofing industry and the Dallas community.
Let's come together to make this holiday season a little brighter for those in need. Join us for an evening of laughter, networking, and holiday cheer!
For sponsorship inquiries and further information, please contact Tracey Donels of Service First Solutions at 469-496-0055 or email tracey@growroofservice.com.
Let's make this holiday season one to remember. We look forward to celebrating with you at the "MRCA First Thursday Holiday Party and Toy Drive"!
Sponsorships Available!

Platinum Sponsor $750
Gold Sponsor $500
Silver Sponsor $250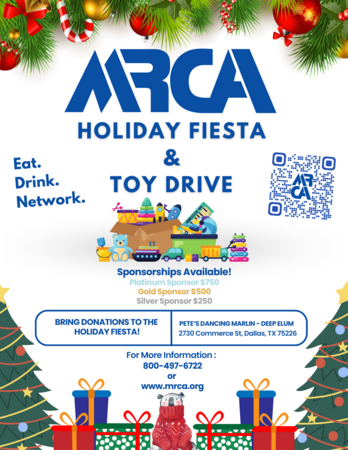 Add to Calendar
aCLuDhaqizCaPxAftmqF167204
12/07/2023 04:30 PM
12/07/2023 08:00 PM
false
America/Chicago
MRCA Holiday Fiesta & Toy Drive
Get ready to jingle and mingle as we kick off the holiday season with a festive twist! The Midwest Roofing Contractors Association invites you to our "First Thursday Holiday Party and Toy Drive" on December 7, 2023, from 4:30 pm to 8:00 pm at the iconic St. Pete's Dancing Marlin, located at 2730 Commerce St, Dallas, TX. Event Info: Date & Time: December 7, 2023, 4:30 pm - 8:00 pm Location: St. Pete's Dancing Marlin, 2730 Commerce St, Dallas, TX Theme: Celebrate the Spirit of Giving! Activities: Drinks, Food, Music, and a Toy Drive This holiday gathering isn't just about merriment; it's about coming together as a community within the roofing industry and making a difference in the lives of Dallas children. To join the festivities, we kindly request that all attendees bring a new toy for donation or make a $25 contribution to benefit a local children's charity (specific charitable organization to be determined). Sponsorship Opportunities: We are also offering sponsorship opportunities for companies that want to make a bigger impact. For $250, $500, and $750 sponsorships, your company will receive prominent signage at the event and recognition in a special social media post prior to the event. It's a fantastic way to showcase your commitment to both the roofing industry and the Dallas community. Let's come together to make this holiday season a little brighter for those in need. Join us for an evening of laughter, networking, and holiday cheer! For sponsorship inquiries and further information, please contact Tracey Donels of Service First Solutions at 469-496-0055 or email tracey@growroofservice.com. Let's make this holiday season one to remember. We look forward to celebrating with you at the "MRCA First Thursday Holiday Party and Toy Drive"! Sponsorships Available!Platinum Sponsor $750Gold Sponsor $500Silver Sponsor $250 Click Here to View Flyer
----
---