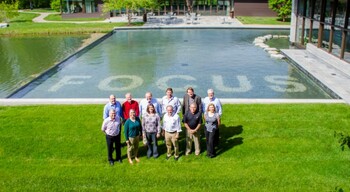 The MRCA Board of Directors recently conducted two sessions and developed a formal strategic planning document that answers the question "What will MRCA look like over the next 10 years?" The Board collectively articulated a vision and mission statement based on a SWOT (Strength, Weakness, Opportunity and Threats) analysis and developed an action plan that supports a strategy that supports growth based on a commitment to provide a return-on-investment focused on being ever relevant to our membership.
The four critical areas that will drive MRCA future success are included in this month's MR Magazine.
The MRCA Strategic Planning Process that started in January will soon be presented to the Board of Directors for final adjustments and acceptance. Strategic Planning is a journey not an event. A Bright Future for MRCA as "The Contractors Advocate" awaits as we start our journey to the future!
- Larry Marshall, L. Marshall Roofing & Sheet Metal, Inc.,
Latest News
View All News
Upcoming Events
September 16-18, 2015
Fort Worth Convention Center
October 8, 2015
The Crowne Plaza - Dayton, Ohio
November 11-13, 2015
Kansas City, Missouri
View All Events
Our Sponsors Midwest Roofer
MR Magazine July-August 2015
Features:
ANNUAL PRESIDENT'S REPORT
New OSHA Concerns for Roofing Contractors
Supreme Court Decision on ACA
How to Get Employees to Play by the Rules
Same Sex Marriage Impact on Employers
Illinois Professional Regulations Update
Past Issues