Thank you to all who contributed to the success of the 65th MRCA Annual Conference at the Gaylord Texan in Grapevine, Texas! They say that things are bigger in Texas and this conference proved that is true! It was a record breaking kind of week:
141 booths on the show floor – an all time high
890 people in attendance
$50,000 raised at the MRCA Foundation Auction
and membership is at an all-time high at 467 companies.
See you next year in Kansas City!
MRCA 66th Annual Conference, Nov. 10-13, 2015
Latest News
View All News
Upcoming Events
February 22-26, 2015
New Orleans, Louisiana
February 28, 2015

9:00AM-4:00PM
Dallas, Texas
June 14-17, 2015
Las Vegas, Nevada
View All Events
Midwest Roofer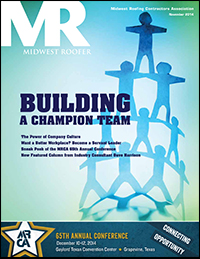 Features:
Building a Champion Team
The Power of Company Culture
Want a Better Workplace? Become a Servant Leader
Preview of the MRCA 65th Annual Conference
New Featured Column from Industry Consultant Dave Harrison
Past Issues