Details

November 12, 2019
3:00-6:00PM
MRCA / ORCA Happy Hour
Kozmos' Grille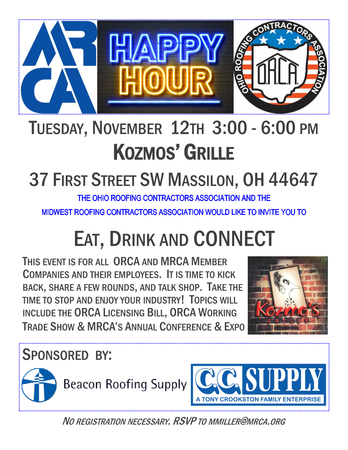 MRCA is providing an opportunity to its Member Companies and their Employees to EAT, DRINK and CONNECT!

A note from Fred Horner, Advanced Industrial Roofing Inc., Massilon, OH: "I know this time of year we are all very busy, but I feel the time we spend together off the roof and
outside the office is often very beneficial. Please take the time to stop in and discuss what is
going on in our industry which includes The Ohio Roofing Contractors Licensing Bill, the ORCA Working Tradeshow and the MRCA's upcoming tradeshows in Overland Park, Kansas in 2019 and Milwaukee in 2020. I feel these are all very important events in our industry.
Fred is the President of the Ohio Roofing Contractors Association and Incoming President of Midwest Roofing Contractors Association.
2019-11-12 15:00:00
2019-11-12 18:00:00
America/Detroit
MRCA / ORCA Happy Hour
  MRCA is providing an opportunity to its Member Companies and their Employees to EAT, DRINK and CONNECT!   A note from Fred Horner, Advanced Industrial Roofing Inc., Massilon, OH: "I know this time of year we are all very busy, but I feel the time we spend together off the roof and outside the office is often very beneficial. Please take the time to stop in and discuss what is going on in our industry which includes The Ohio Roofing Contractors Licensing Bill, the ORCA Working Tradeshow and the MRCA's upcoming tradeshows in Overland Park, Kansas in 2019 and Milwaukee in 2020. I feel these are all very important events in our industry. Fred is the President of the Ohio Roofing Contractors Association and Incoming President of Midwest Roofing Contractors Association.   Click here to download the Happy Hour flier
Kozmos' Grille